Fish Bay
Three Stories animated by Bob Stenhouse

INCREDIBLE CREATURE
9 minutes 37 seconds based on THE MOUSE BRIDE


In this retelling of a traditional tale a Mouse who hates her self-perceived weakness, searches for the strongest mate in the world, but discovers it is she who holds the key to her own destiny


This story is a blend of drawn cartoon characters and computer images, with photographic backgrounds which were shot in Fish Bay, a remote part of New Zealand's Marlborough Sounds. This tale is also a 'tour' of Fish Bay where Joy lives, and the Old House, against which "the Wind has blown for nearly one hundred years".
Produced with assistance from NZ On Air
Selected for Chicago International Children's Film Festival 2001, screened at Boston Museum of Fine Arts ; BAMKids International Children's Film Festival [New York]; Anima Mundi 2002 [ Rio de Janeiro and São Paulo]; Hiroshima 2002 [Special Programme "Animation for Children"] Impact: Programs of Excellence [El Paso,Texas]; Wisconsin International Children's Film Festival [Milwaukee]; National Gallery of Art, Washington,and others.


THE ORCHARD
8 minutes 45 seconds


An Old Man lives alone high above a sea-side village which one morning is suddenly jolted by a sharp earthquake. Nobody is hurt, but the Old Man remains very agitated. He alone knows what to expect next

Adapted from a Japanese folktale by animator Bob Stenhouse with Joy Cowley as story consultant.
Produced with assistance from the New Zealand Film Commission Festivals: Special Programme: Animation for Children, Hiroshima Festival 1996 Best Animated Short [Adult Jury], Chicago International Children's Film Festival 1996


FISHERBOY
7 minutes 14 seconds - published as TULEVAI AND THE SEA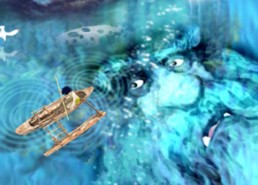 The Sea watched the Fisherboy. "What a strong boy he is. How well he throws that fishing spear. I think I will make him my slave." The Sea captures the Fisherboy, however the boy's mother will not accept that he has been drowned or eaten by sharks and her great love for him enables her to do the impossible: roll back the Sea and free her son. But even now the Sea still hunts for the boy and twice a month, when the moon is new and full, the Sea comes right up the beach looking for him.


Produced with assistance from NZ On Air, and Creative New Zealand.

Movie Clips


394K
(7 sec play)
613K
(12 sec play)
1.5 minutes
to download at 56K
2.5 minutes
to download at 56K

Note these clips require Quicktime 5 or higher to view
to download Quicktime click here




About Bob

"The Frog, The Dog And The Devil" animated by Bob Stenhouse was nominated for Best Animated Short, at the 1986 Academy Awards. It was described as "visually stunning" - The Sacramento Union, "lushly conceived" - Chicago Tribune, and admired for "its painstaking use of colour and lighting effects" - Daily Nexus, Santa Barbara.


Enquiries

These productions are available in Canada and the United States of America as separate videotapes OR the three story compilation. Enquiries to:

DIRECT CINEMA LIMITED
P.O. Box 10003
Santa Monica, CA 90410 USA
call 1-310 - 636 - 8200
or visit www.directcinema.com

In New Zealand the three story compilation FISH BAY is available from:

Bob Stenhouse
8 Dunrobin Grove
Silverstream 6007
email inquiries to stenhous@ihug.co.nz









© copyright 2001 Joy Cowley

last update 10 May 2011